Colac Neighbourhood House provides a welcoming, friendly environment for community members to join in organized groups and activities.
What we do
We provide space for meetings, training and playgroups. We encourage members to develop new skills and to seek out new experiences. By joining one of our many groups, it helps members to build on social connectedness.
Some of our Activity groups include:
Art and Craft Groups
Children's playgroups
Various support groups
Community group meetings
Educational groups
Community Choir
Who we care for
The whole community
Costs
There is small fee if you choose to become a member.  Contact Neighbourhood House for details.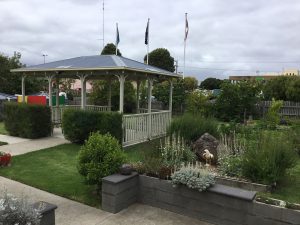 The Colac Neighbourhood House has a beautiful, peaceful garden which staff and families of those receiving care can utilise if they need.
People are welcome to sit under the Rotunda, walk around, lay on the grass, pull some weeds! and just relax alone or with a friend.
Our Public Living Room is a safe, enclosed environment for times of reflection, joy or sadness. There is a playground for little ones too.
Please feel free to come over and enjoy it if you need until the revamp is completed in and around the hospital and beyond that if you prefer.
Access is via the ramp on the east side of the house or through a gate between the Youth Health Hub and the garden on the Miller St. Side.